Sometimes, when we open our eyes, the first thing that goes through our heads is – "I need something sweet". It mostly happens after our inactivity or favorite pastime. We might crave sweet to 'reward' ourselves for finally finding and buying our favorite sneakers online or for winning a bet at our favorite bookmaker out of those here.
Craving sweet can happen after an afternoon nap, but sometimes even after our eight hours of healthy, night's sleep, we really want to eat something sweet. Moreover, it often happens to us that our sugar level falls in the middle of our sleep, and then we wake up among the crumbs of wafers, wondering if we dug it in the pantry again in the middle of the night.
In such moments, we need quick and easy recipes that we will mix up, something that is not eggs or French toast, but some sweets that will allow us to start the day cheerful and smiling. Find inspiration for your perfect sweet breakfast below.
Banana Bread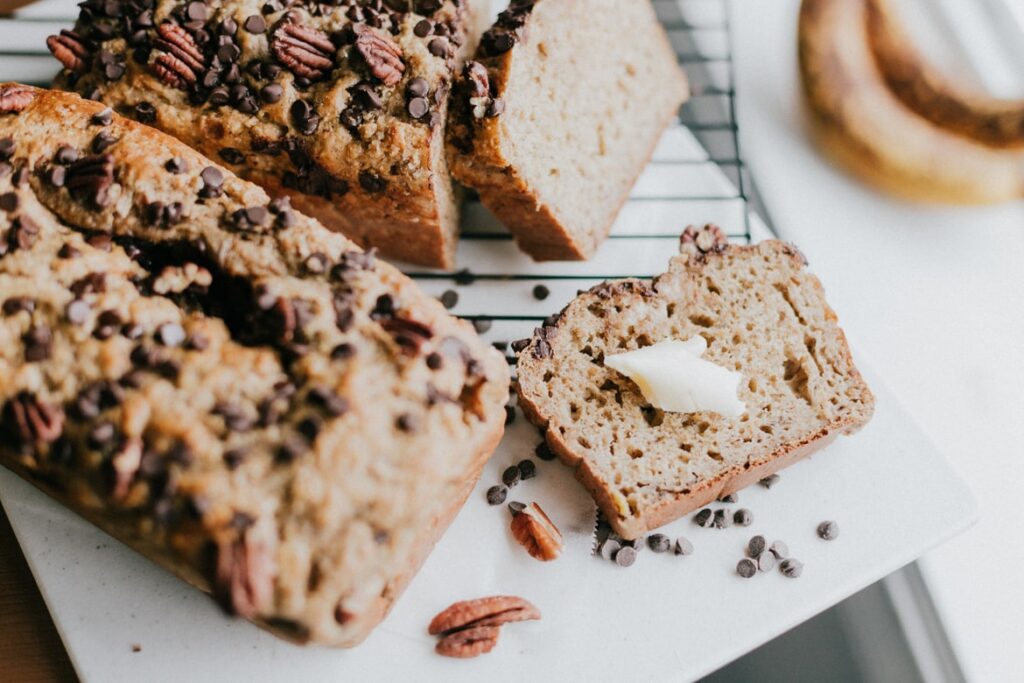 For this American specialty, you need a narrow tray that is used for baking bread. If you don't have it at the moment, you can make a 'mold' out of aluminum foil. In that case, you just have to check that the mixture has not spilled due to its weight.
You need the following ingredients:
115 g of butter
200 g of sugar
2 eggs
3 or 4 bananas
200 g of all-purpose flour
1 teaspoon of baking powder
half a teaspoon of salt
half a teaspoon of vanilla
crumbled cooking (dark) chocolate
Turn on the oven before mixing the ingredients. Beat the butter and sugar first, then add the scrambled eggs and bananas that you previously crumbled. If you use 4 bananas, the bread will be a little 'wet' but juicier, so use 3 or 4 bananas to taste. Stir well.
In a separate bowl, mix the flour, salt, and baking powder, then add to the mixture. If desired, season with vanilla aroma. When you have mixed all this, add the crumbled cooking chocolate. Pour the mixture into a mold or pan and bake for about 40 minutes.
American Pancakes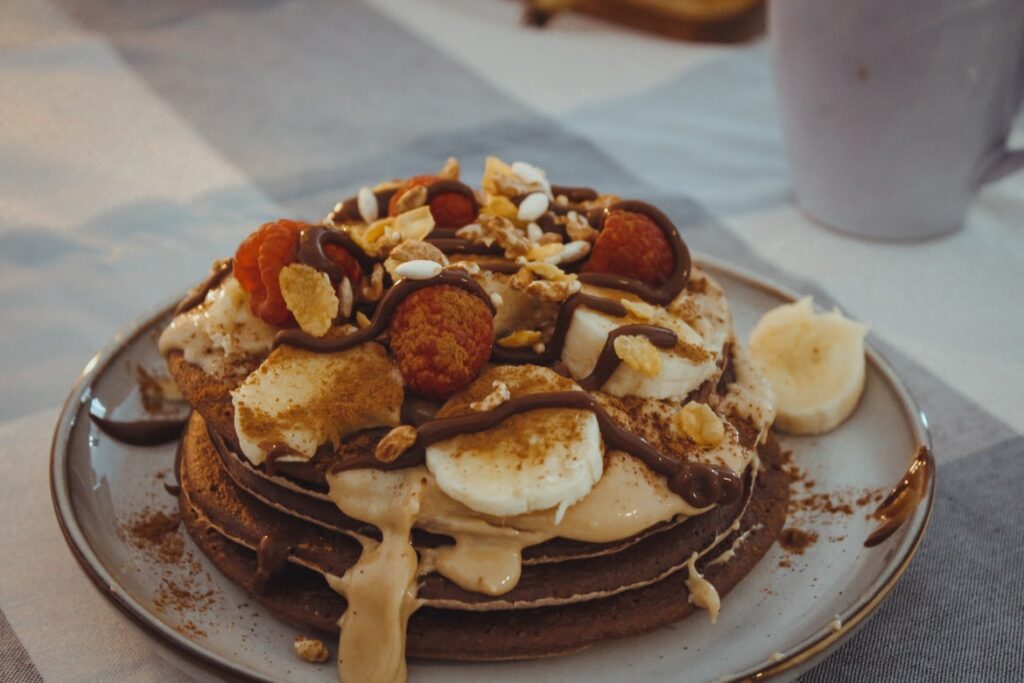 If you are tired of classic crepes, you will enjoy this change. With just a few ingredients, you will have a quick sweet breakfast.
What you need is:
50 g of butter
half a pack of baking powder
1 pack of vanilla sugar
half a teaspoon of salt
2 teaspoons of sugar
1 egg
220 g of soft flour
250 ml of milk
a pinch of baking soda
The first thing you need to do is whisk the egg, then add milk to it, and slowly stir them with a mixer. Melt the butter, and when it cools down a bit, add it to the mixture. Then add flour, baking powder, baking soda, salt, sugar, and vanilla sugar. Whisk it all well and pour it with a small ladle into the pan that you previously heated.
Don't pour this mixture over the pan like 'ordinary' crepes, but leave the mixture in the middle of the pan with a diameter of about ten centimeters. You need a minute for one pancake – you bake each side for about 30 seconds. Serve with chocolate spread, strawberries, homemade cherry topping… whatever you feel like eating that morning.
Chocolate Chip Cookies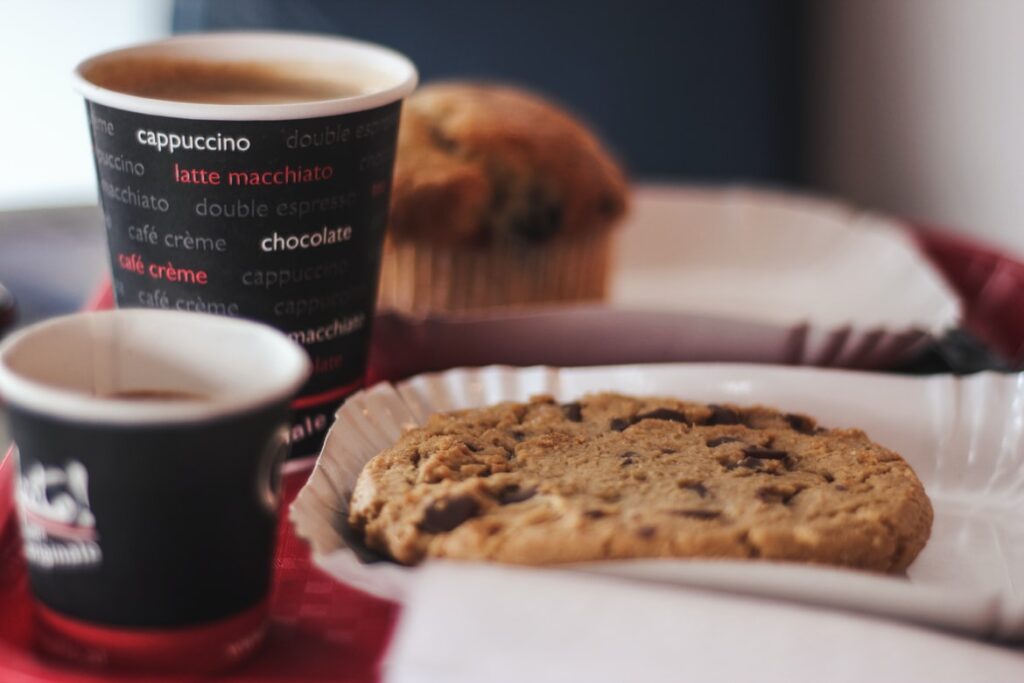 These are the famous cookies you have seen in movies and series. Those from the supermarket are mostly hard and crumbly so, for that reason, try can make homemade ones that will be juicy and delicious. You need:
crumbled cooking chocolate
100 g of ground walnuts
200 g of sugar
3 eggs
1 pack of vanilla sugar
250 g of butter
500 g of soft flour
one pack of baking powder
Before you start baking, preheat the oven. You need one baking sheet or casserole. Coat it with greaseproof paper to keep the mixture from sticking. Whisk the sugar and eggs first. Then add the butter and whisk again. After that, add flour, vanilla sugar, and baking powder, then whisk. Finally, just add ground walnuts and crumbled chocolate to the mixture. Mix with a spoon and use that spoon to take the mixture out of the bowl.
Shape the mixture into balls that you will put down on a baking sheet. Flatten them a little on the baking sheet to get a shape that is recognizable for these cookies. Leave space between them, so that they don't stick together when they grow and spread during baking. It is enough for them to be in the oven for about 10 minutes and they will already be ready to serve.